Do you agree that the Rose is the most beautiful flower in the world?  In fact, it's so exquisite in beauty that's why I think it was necessary to protect it with thorns.  It is also the most popular flower.  Who hasn't heard about the rose and its beauty?  As if that's not enough the Rose comes in a variety of colors too.  Each color conveys a different feeling or emotion.  So it's no surprise that people give roses to their love ones to show them how they feel.  Even the late President Ferdinand Marcos used the rose to convey his feeling to the infamous Imelda when he was still courting her.   Imelda recounted while her other suitors gave her big bouquets of flowers the young Ferdinand gave her just two roses.  One rose already in full bloom while the other rose still hasn't opened its petals.  Years later she found out that the the rose in full bloom signifies Ferdinand's feelings towards her as he was already madly in love while the other rose signifies Imelda's heart was still closed.
So if you want to show how you feel to someone special then don't hesitate to buy a rose for him/her.  It might not land you in the Guinness Book of Records for being the most original but the beauty of the rose is it never goes unappreciated.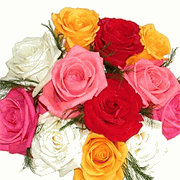 Rose Colors and their Meanings
* Red – love, courage, respect
* White – reverence and humility, innocence and purity, and secrecy and silence.
* Red & White Together –  unity.
* Pink – grace and gentility. Deep pink stands for gratitude and appreciation. Light pink conveys admiration and sympathy.
* Yellow – joy and gladness
* Coral or Orange –  enthusiasm and desire.
* Deep Burgundy – unconscious beauty.
* Red & Yellow Blends –  jovial and happy feelings.
* Pale Colors – socialbility and friendship.
* A Single Rose – stands for simplicity.